WeepCraft is one of the best hacked client at the moment for Minecraft. It is PACKED with lots of great features like minimap, radar, aimbot, xray. This hack has it ALL. It worked without any problems when we tested it, both singleplayer and multiplayer in servers. It is one of the best clients we have tested so far. For PVP and Hunger games this client is a must have – minimap, rearview and radar combined with aimbot and auto options will make you almost immortal.
Author: WeepCraft started out in the minecraft 1.7.3 beta. It was first showcased on Youtube, but after heavy demand & feedback it was quickly released. The name stands for Weep(cry/sadness) and Craft(maker/creator), so CryMaker would what it stand for. It is a large client with tons of features and as a result of that, it might not be the best for a first time client user. A couple of weeks after the first release it was discontinued, due to a large amount of people leeching the client & making money on it. This together with a bunch of bugs it was much easier to re-code the client. Some time passed by and WeepCraft Reloaded was released. This version was way more stable with a more smooth base. WeepCraft is still being developed on and will most likely continue to be developed for a long time in the future. – FLYCODER
WeepCraft Features
It's hard to describe all the features, but we will try here ;)
Minimap
Radar
Text radar
RearView
World Mods

AFK Detect
Annihilator
Build
Build random
Counter
Excavator
Fast mine
Freecam
Fullbright
Jesus
Jetpack
No Cheat
No Fall
No Resis
Notify
Nuker
Nuker legit
Recording
Safe walk
Speed
Throw
Timer
Xray

Player mods

Anti AFK
Clean inventory
Climb
Dolphin
Fast place
Flight
Follow
Glide
High jump
Jerk
No swing
Safe AFK
Sneak
Sprint
Step

Graphics mods

Anti spam
Armor ESP
Big names
Chest ESP
Day
ESP
Flip
get High
Hit ESP
Label
Mob ESP
No Blind
No Render
No Weather
Overlay
Player ESP
Projectfiles
Remote View
Search
Tracer
Trail
Wallhack
Waypoint
WCHub
Wireframe
Zoom

Auto mods

Auto accept
Auto armor
Auto block
Auto command
Auto disconnect
Auto enchant
Auto farm
Auto fish
Auto mine
Auto place
Auto raid
Auto register
Auto respawn
Auto sign
Auto stew
Auto switch
Auto tool
Auto torch
Auto walk

Combat mods

Aimbot
Anti firebolt
Anti hurtcam
Bow aimbot
BunnyHop
Click aimbot
Crit
Kill aura
Kill aura legit
Knockback
Multi aura

Frames

AccountChecker
AccountCracker
ProxyChecker (HTTP)
Spammer
Stresser

In-game options
Other features…
Screenshots
As you can see it works fine in multiplayer.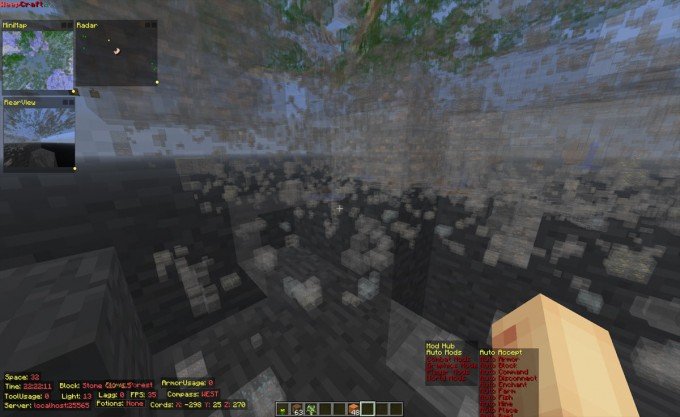 The X-ray is very good !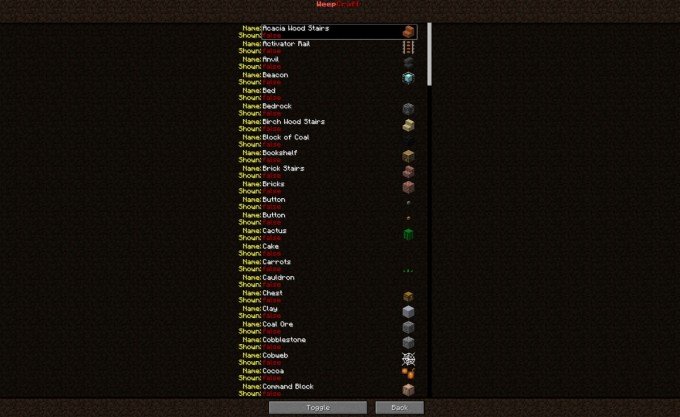 Xray options.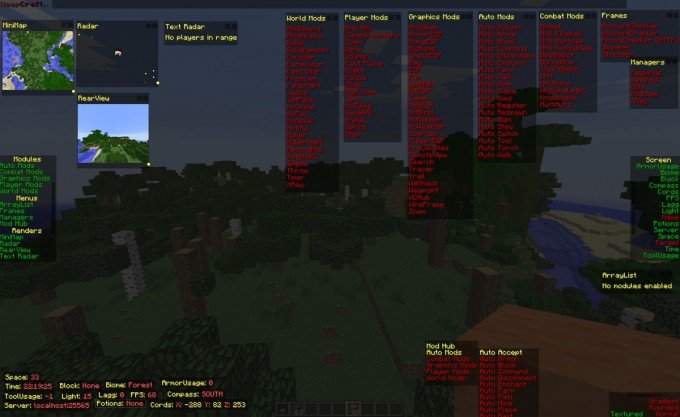 In-game GUI – again, lot's of options you can chose between.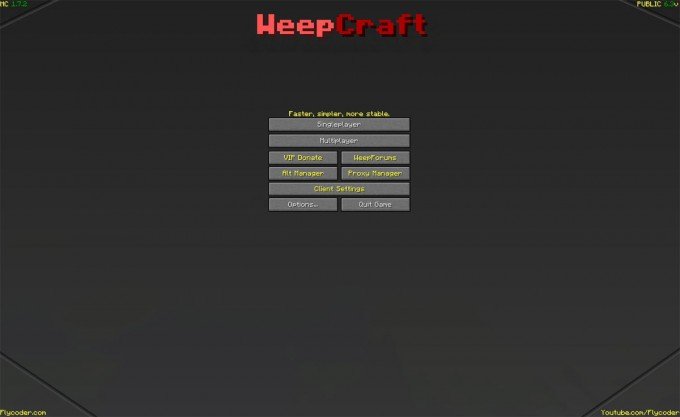 The splash screen.
How to use – keybinds
Gui Menu: Left Control
Console Menu: Right Control
Changelog
Version
Added
Removed
Known Bugs
Notes
7.1
Minor bug fixes
Fixed issue with attributes & fully implemented it
7.0
Reconnect button
Direct connect button
ServerStatus
Lagg Value
Minor bug fixes
Overlay now shows dmg
Sorta added support for accessories
Tweaked buildrandom
Modes can now have spaces
this version includes attribute stress testing.
6.9
Fixed many 6.7-6.8 issues
Made jesus work with nocheat
Made sneak work with nocheat
Update screen will now show information about latest version
Fixed an issue with autofish & made it select tool
Fixed a coloring issue with vips
You can no longer attack your friends (donno when or why this was gone)
6.8
Remoteview crashes you
Hotfix for the many entity based modules only beingable to read 5 blocks from them rendering the client useless for testing
Still expect quite a few bugs. report them in the help section, much has changed code wise in 6.7 & many module interact differently with the changes
6.7
Item value
AutoVIPFriend
AutoAttack
Enemy
Godmode
Proxy Manager
Annihilator (Nuker has a multi id setting now)
Fixed an issue with remoteview
Fixed an issue where the hwid caused a small amount of fps drop
Many minor bug fixes
Massive changes to the event system that might cause issues
Fixed nuker not bypassing ncp
Fixed an issue with the checker & accounts that contains the email aswell
Minimized autoarmor's looping & put in the inventory button it had before 5.0
Added AutoCrafting button on inventory, now also supports 2×2 crafting, & if a crafting table is near it will attempt to use that insted of the 2×2
Modules now allow for more custom settings than just id & mode, first module to implement this is nuker, (will more than likely become vip in the future)
Reduced Text Radar & Radar entity looping
Remoteview now shows armor & hand item when going to the inventory
Rewrote how block updating/getting is handled to reduce looping
Rewrote how entity updating/getting is handled now also prioritizes much better Enemies > Players > hostile mobs is the current system & in some cases loop less.
Changed bowaimbot abit
6.6
ID to jetpack
Drop hand to drop command
Added the perm wc textured
Shoutbox it was using to many resources & resulted in me losing my mysql database
Recode search & xray removed a couple of events from them to make it lagg less. no longer supports opacity
6.5
The removed features from 1.7.2
Mode to mobesp
xray is still abit messed up gatta wait for complete mcp for a fix
Minor Bug fixes
Fixed config being in the wrong folder
Fixed waypoints
6.4
NoSlowDown
Enchant (is back)
Fixed all the KNOWN bugs from 1.7.2
6.3
Silent setting
AutoTorch
MultiAura
Couple of simple gui skins
UDP Stresser option
Slow loris Stresster option
Lagg value aint working
Alt manager is broken
Remoteview crashes you
Label messes with other graphic modules
Fixed proxy manager connect & tweaked it
Minor bug fixes
Tweaked autocraft & now allows for half stacks
Tweaked killaura
Made shouts go to the chat & made a none vip setting to disable it entirely
Tweaked Rearview & minimap
Made you on the radar show up as a head
AutoFarm now works for sugar cane
Remade parts of the gui to allow for custom skins
Tweaked autoenchant & made it bypass ncp
6.2
WCHub
Auto Raid
HitESP
ESP
AutoEat
AutoFarm
WCHub disables all kinda shit.
Proxy manager not connecting to proxies
Shoutbox is not working
Minimap bugs out a couple of esp modules
Rearview bugs out label
Tweaked xray
Tweaked AutoCrafting & added support for crafting all
Tweaked drops & window clicks & made them faster
Fixed a minor issue with autostew
Made chestesp esp minecart chests
Tweaked Account manager
6.1
Proxy manager not connecting to proxies
Shoutbox is not working
Minimap bugs out a couple of esp modules
Rearview bugs out label
Hotfix for crashing issue
6.0
Modes to flight
Pwnage
Valid yaw option
Target value
RearView Player
MiniMap
AntiSpam
Tweaked packet system
Fixed light level showing incorrect id
Made screen menu into a hub
Tweaked auto crafting
Tweaked hub menu
encrypted unquie ids are now generated on download & will be verified in the future
5.9
Radar is now resizeable
Download function to stresser
Map texture
RearView bugs out when advanced opengl is on
Shoutbox cannot send messages
Heavy encrypted the vip checks to prevent server admins from checking your vip status
Tweaked autostew
Hopefully fixed a chunk error with rearview & also made it zoom out 20%
Added health to wc labels
Tweaked labels & bigname
Minor bugs & spell errors fixed
5.8
Message left option
Commands can now have aliases (AutoStew AutoSoup, NoResis NoSlow, etc)
Settings Manager
RearView
Rearview Yaw & Pitch option
Gui Manager
Module Manager
RearView bugs out when advanced opengl is on
Changed overlay abit.
Hub has been changed abit
Minor gui saving issue fixed
Gui now allows for custom menus (via gui manager)
5.7
Heads in alt manager
Auto Crafting
Radar
Waypoint
Help command
Map Texture option
Instant craft does not work if nocheat is enabled
Set down shoutbox load delay for vip's
Renamed Radar to Text Radar
Fixed lists not loading if list only contains 1 value.
5.6
New video to the tut's menu
Counter
Setting for WC labels
Fixed armor esp flipping horses upside down
Fixed label messing with other graphic modules
Attempted to fix some of the xray issues people are talking about
Set down the shoutbox load delay
5.5
Armor esp flipping horses upside down
Label messing with other graphic modules
Xray is abit buggy
Fixed a couple of mistakes from the update (RemoteView & Xray)
Fixed auto reconnect & reconnect blocking disconnect text
Fixed enchant all having 2 spaces
5.4
MobESP
Notify
Trail
Enchant
AuraESP
WC labels
ArmorESP
Annihilator
BigName
AfkDetect
Anihilator & clean inventory to the Manager Menu
Shoutbox Menu
Changed fullbright abit
Fixed checker & cracker repeatly attemping accounts if the account is not Premium
Fixed Gui not letting you close if console in gui is disabled
Updated to minecraft 1.6.4
5.3
Keybind/Xray/Mode/ID manager
Background option
FastBow
Projectiles
Scan
FastEat
OpAbuse
WorldEdit
Reconnect & Auto Reconnect
ServerStatus
RemoteView
AutoBlock
BunnyHop
Teleport
getHigh
Protect
WireFrame
Glide
Dolphin
Will randomly not let you fullscreen. Gui will not close if console in gui is disabled
Fixed gui key being typed in console
Changed keybinding abit
Main menu now shows if your hwid or username vip
5.2
Insult
Text shadow option
Rei's minimap
mode & id to fastmine
Space value in screen menu
Potion value in screen menu
Block value in screen menu
Light value in screen menu
Will randomly not let you fullscreen.
Nuker is now faster if your in creative mode & nocheat is not enable
5.1
Tutorials in client settings
Speed
ID to flight
NoBlind
Fixed minor issues & spell errors
Attempted to fix lagg issues with nuker
Fixed say not being able to be bound to more than 1 key
Fixed ID's not being able to be doubles
5.0
XRay disables smooth light
Recoded WeepCraft
4.6
HotFix for killaura
4.5
Spam in console
Pwnage
Crasher
Remoteview
Disable WeepCraft
Crit
Font
Autotool does not pick sword
Removed more broken/patched features to get ready to the new WeepCraft
Fixed alt manager search function
4.4
Emo
Wallhack
Climb
Heads from alt manager
Logo
Autotool does not pick sword
Am sure there more bugs since a lot of things has changed. feel free to inform of so in the help section on the forums
Updated to Minecraft 1.6.2
Fixed scorebroads not showing
some of the features removed in this version will come back.
4.3
Auto Eat now skips spider eyes
Changed the host the loading loads from
4.2
Hot Fix for loading issue with 4.1
4.1
Enchant
Fixed version sometimes being private
Lower chance of getting "Cut not load"
4.0
Hotfix for loading issues with 3.8-3.9
3.9
Removed unique id's generated when downloaded it was to much of a load for my host to handle
More stable vip system
More stable loading
3.8
Changed loading alot
Rewrote VIP system
Rewrote the method of encrypting hwids (that means all old hwids will need to resend the new hwid with proof of payment)
Rewrote cape system to allow for custom capes
Added support for beta releases
Fixed some of the FPS issues from 3.5
3.7
AutoEnchant
The say command takes you to the main menu
Updated Pwnage
Updated Crasher
Updated to Minecraft 1.5.2
Added color support for the text on MainMenu
3.6
Pwnage
Crasher
Stress*VIP (Beta feature noway near done)
WeepServer auto add
HotFix for FPS issues with 3.5
Minor changes to the loading
Readded those features you all whine so much about… if weepcraft continue to get issues due to those features it will be closed entirely. i guess that is what you want
3.5
BigNames
Nuker control *VIP
NukerLegit control *VIP
Readded that buggy Godmode you all ask for -.-
Crit
Credits
AutoDig
Fixed all modes having double [] when typed wrong
Fixed protect not protecting nametags
Changed the rendering abit
Improved VIP system
3.4
Crasher
Pwnage
BlackList
Reload
Proxy Scraper (it was broken & since it was mainly used for crasher & pwnage i didnt feel the need to fix it now where they are gone)
Fixed some rendering issues
Changed the loading alot
Fixed vip command
The reasons for the removed features are simple. they causing too many problems with victims of these features
3.3
Proxy Manager
Proxy Scraper dont work
Pwnage/Crasher scraper anit working
VIP command says wrong info
Fixed wallhack
Updated to 1.5.1
Added heads to acc manager
3.2
Random button for account manager
Pwnage/Crasher
WallHack
Fixed server status
Fixed loading sometimes fucking up
3.1
AntiFireball
Pwnage / Crasher is broken
Server status is not working
Backup host for ddos attacks
Minor bug fixes
Cleaninventory dupe saving fixed
New Account Manager
McBans Check*VIP
Updated to mc 1.5
Temp removed terrian from radar
3.0
Better sorting system for blacklist
Search feature for blacklist
Settings for blacklist*VIP
2.9
Modes for autoaccept
Disable WeepCraft button
Counter
Sorting system for BlackList
2.8
Fixed BlackList
Fixed Pwnage & Crasher
Updated to new Host
Improved BlackList
2.7
Crasher & Pwnage is broken
Minor bug fixes
HotFix for BlackList
Temp Fix for WeepCraft.tk bering down
2.6
ESP *Supports (minecraftcart chests, chest, enderchest), Furnace, EnchantmentTable, Or all above
Server Status (tells you if the server is cracked) enabled by default
MouseOver Screen menu
Biome Screen menu
Chestesp
Crasher & Pwnage is broken
Changed some buttons around
Remade Nuker
Remade Afkdetect now support modes
Waypoints now support modes (Death, Lightning, Both)
Fixed a crash issue with displaying new screen
WeepCraft Server blackList. add your Servers on WeepCraft.tk
2.5
Save file makes a bunch of dupes for some reason
Minor tweaks to excavator
Fixed stand alone console not display text sometimes
Fixed social lists bering saved multiple times
HOTFIX for 2.1 to 2.4 broken auto update
2.4
Excavator *VIP
Advanced hud mod.
Save file makes a bunch of dupes for some reason
Fixed autosign
Updated Optifine
Added more frames to WeepCraft menu
Changed fullbright
2.3
Advanced Hud
Fixed all issues regarding update
Autosign is buggy
Gui achievement crashes when open
Added credits menu
Made custom modes (fx autocommand) support mutliple words
Made a toggle for Terrain rendering on the radar
Updated Optifine
Fixed Main Menu displaying public version insted of vip version
2.2
Auto Command
Modes for HackHub
Build bypass
More advanced Custom build
Killswich too many false positive
Main menu display wrong Version info
Sliders removes
Player is not drawn in information menu
Fixed nofall
Recoded WeepCraft bases saving will not work with old saves
Made nocheat enable by default so retarded people stop complaining that shit dont bypass
Made console messages send chat messages if console is not open
Improved AutoStew on nocheat servers
VIP Price increase too 5 (from 3)
Fixed one CraftSquare
Reduced weepcraft size
Hwid VIPs will need to resend the new HWID
2.1
Nofall broken
Fixed Xray
Fixed Fastmine
2.0
Updated to 1.4.7
1.9
Fixed nukerlegit only nuking 1 block then stopping
Tuned down the amount of Crack threads that can be run at once. to avoid not responing errors
Fixed nofall
1.8
AccountCrack Gui *VIP
Gui for AccountCheck
Proxy Support for AccountCheck
Custom Waypoints
Nofall
1.7
NukerLegit
Scan for blocks ID
Waypoint imports
Killaura Render Sphere
Nofall is abit buggy
1.6
Build mode WC
Made Flight not slow down mining
Knockback makes you fly
Fixed all the 1.5 issues
Crit Should not be in this version and its not working. forgot to delete it before compling
1.5
Capes not showing
Xray not working
Jesus Not working
Friend/enemy/admin list not working
Builds not working
Fixed new capes not rendering sometimes
Removed advanced hub getting sick of getting told it crashes. might readd it when the creator steps hes game up
Fixed account file randomly not skipping # lines
Updated to mc 1.4.6
Quite a few Mistakes/Bugs in 1.5 not going to have time to fix them for atleast a couple of days due to xmas. *WeepCraft got a new Website btw
1.4
Focus Menu (Displays DerpCopy/aimbot/killaura/bowaimbot/etc targets name)
New Wallhack
AutoEnemy
AntiAfk
Jerk
Charms
Fixed some spell errors
Fixed cleaninventory and made it save
Semi fixed buggy rearview. made it useable atleast
Improved the std Killaura
Turned AutoStew Amount left into a dragable menu insted
AccountCheck now support more combos
AccountCheck now will remove duplicate accounts
New MainMenu
Added Killaura distance support
Greatly improved Derps and fixed that they dont bypass
1.3
Fixed a couple of mistake and left overs from testing.
Fixed Autotool
Fixed Donate link
Minor Touch ups on some methods.
1.2
Teleport
Scanner
AccountChecker *Vip
Armorusage Menu
VIP check
Reload
SafeWalk
Autotool is weird on some blocks
Recoded waypoint handling entirely hopefully fixed saving issue
Toolusages now shows all item uses (fishing rod shears, armor & so on)
1.1
Tunnler
KillAura Legit *Vip
Waypoints dont save
Fixed Freecam For Real…
Improved Auto Stew Greatly
Updated advanced hud .. again
1.0
Donaters NamePlates
Command to check minecraft version
Out Of Bound Gui (Makes your Gui able to go out of the screen)
Worldedit replace all
GuiScreen for console only (Right Shift Default key)
Waypoints dont save
Fixed click aimbot always hitting
Fixed Flight and speed not be able to move on low ID
Updated to 1.4.5
Updated Advanced hud from 1.3.2 to 1.4.5
Fixed Freecam
0.9
Click Aimbot
Waypoints dont save
Made none nocheat killaura hit multiple people
Fixed Nuker mode smash smashing 24/7
Fixed search ID not showing up in the console
Fixed Silent mode on killaura not showing up the console
Fixed a crash issue with 1.4.5 servers
0.8
More bowaimbots
Silent mode for killaura
Waypoints dont save
Fixed HighJump not working
Fixed Drops and made the console little more helpful about the drops
0.7
Waypoints dont save
Fixed Gui not bering able to move
0.6
Waypoints dont save
Gui cant move
Updated to Minecraft 1.4.4
0.5
Waypoints dont save
Hopefully fixed the dropbox issue
0.4
Some more hints
God
Waypoints dont save
Fixed Auto mining not disabling
Hotfix for signs not displaying
0.3
Hints on first game join
WeepCraft loading screen
Waypoints dont save
Fixed HackHub displaying all custom windows hack
Fixed autosign not working
Fixed God mode crashing the game when nocheat is enable
Fixed Freecam not being able to go though blocks
0.2
Waypoints dont save
Fixed Mac user crash
Fixed spell errors derp
Fixed Crash when using Gui outside of game
Fixed console not displaying autopoison
0.1
WeepCraft reloaded released
Creator: Flycoder
How to install WeepCraft client
Download and extract the zip file. You now have a folder, this folder should contain a jar and json file.
Navigate to "%appdata%/.minecraft/versions" folder.
Move the hacked client folder from the downloaded zip file, to your .minecraft/versions folder.
Start the Minecraft launcher.
Click "New Profile".
Choose a name for your profile.
In "Use verison:" choose "release [Client name]".
Click "Save Profile".
Enjoy the power of WeepCraft !
You can also check out our how to install hacked clients guide.