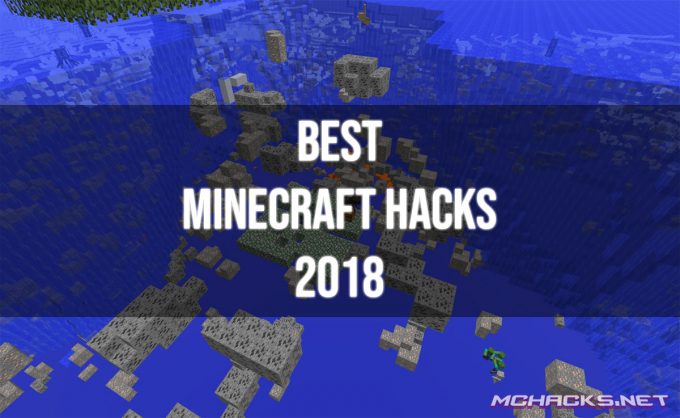 This list features the latest and best Minecraft hacks in 2018 for Minecraft version 1.12, 1.12.1 and 1.12.2! All the hacked clients featured here is compatible with Windows, Linux and Mac OS X. They work in single-player and online multiplayer servers including Minecraft Realms. Most of them has +100 mods/features which will be enough for most players out there. There are easy to install and easy to use with integrated click GUI. Best of all, all the clients described here are free to download!
1. Wurst Hacked Client

Number one on our list is the Wurst client. Wurst was our top pick in previous years as well, and with good reason. Wurst is known for being very well maintained and updated frequently. Every time there is a new Minecraft update, Wurst is quickly updated as well to support the new version.
Example of features:
Invisibility
AutoSteal
SpeedHack
Phase
AntiCactus
ArenaBrawl
ChestESP
BuildRandom
Jesus
AutoMine
HealthTags
PlayerESP
Jetpack
Criticals
KillauraLegit
PlayerFinder
SkinBlinker
KillerPotion
NoClip
AntiKnockback
GhostHand
TP-Aura
ClickAura
FightBot
BaseFinder
BunnyHop
BowAimbot
NoWeb
FastBow
ItemESP
Follow
Liquids Mod
TrollPotion
Glide
MultiAura
AutoSoup Mod
MobESP
Trajectories
MassTPA
FastPlace
Overlay
AntiSpam
NoHurtcam
AntiFire
CMD-Block
Regen Mod (God Mode)
AutoWalk
ExtraElytra
OP-Sign Mod (Force OP)
InstantBunker
AntiPotion
TriggerBot
AntiBlind
X-Ray
NukerLegit
Step
AutoBuild
PotionSaver
TrueSight
ForceOP (AuthMe Cracker)
CrashChest
Download Wurst for Minecraft 1.12.2
2. Wolfram Client

The second place on our list goes to Wolfram client. Wolfram is another popular hacked client (or Minecraft utility mod as they like to call it) which is frequently updated for newest version of Minecraft.
Example of features/cheats:
Fullbright
AntiSpam
NoBlind
ItemESP
CompassTracer
AutoEat
Step
Criticals
FastPlace
AutoWalk
FarmhuntESP
Ghost
FlyNCP
NoFall
NoOverlay
NoFireworks
Flip
AutoSoup
Freecam
ClickAimbot
AirMove
FakeHackers
PotionEffects
Flight
Derp
AutoShoot
Tracers
PlayerESP
FlyVanilla
AntiHurtcam
ClickAura
ArrowTrajectories
ForceField
Phase
AutoFish
Spider
BunnyHop
AutoArmor
AutoRespawn
Regen
ProphuntESP
Aimbot
Download Wolfram for Minecraft 1.12.2
3. Impact Client

On the third place on our list of the best Minecraft hacks in 2018, we have the Impact client. It has definitely made an impact on us (pun intended). Easy to use, lots of features – what's not to like.
Some of the features:
Auto Armor
Crosshair+
NoClip
QuakeCraft
Blink
No Push
Auto Fish
Tracers
World mods
Firian
Velocity
Animations
Anti AFK
Storage ESP
Anti Weather
Auto Tool
Step
Glide
Auto Tune
Longjump
Brightness
Timer
Aimbot
Nuker
Minestrike
Fast Place
Flight – Fly mode
Hitbox
Skin Blinker
Caps And Crims
No Slow Down
Smooth Aim
Display mods
Bed God Mode
Auto Eat
Xray
Death Coords
Trajectories
Speed
SneakyAssasians
Exploit
Minigame mods
Download Impact for Minecraft 1.12.2
4. LiquidBounce

The fourth place goes to LiquidBounce. Probably one of the first clients to support Minecraft Realms. As with the others, this client has a lot of features/mods/cheats included and is easy to use and install.
Extract of LiquidBounce features:
AimAssist
NoWeb
FastClimb
Glide
ConsoleSpammer
CivBreak
WireFrameESP
Sprint
AntiCactus
BowAimbot
GlowESP
Timer
ItemESP
BedGodMode
NoRotateSet
InfinityChat
HighJump
Valocity
AutoSoup
NameProtect
Blink
AutoArmor
AutoSword
AutoBreak
Teleport
NoSlow
AutoRespawn
Speed
FreeCam
Fly
Jetpack
AntiBot
GroundElytra
LiquidWalk
ChestAura
Aimbot
Tracers
NameTags
WallClimb
PingSpoof
Teams
AntiLevitation
AutoLeave
AutoTool
StorageESP
Criticals
NoFall
KillAura
Nuker
Projectiles
ChestStealer
FastPlace
MidClick
AutoPot
Ghost
NoHurtCam
Download LiquidBounce for Minecraft 1.12.2
5. SkillClient

Last but not least, our fifth place goes to the SkillClient. With built-in OptiFine, a nice click GUI and easy to use we love the SkillClient.
A small excerpt of the SkillClient features:
NoClip
Jesus
Auto Armor
FullBright
Auto Sneak
Hitbox
Timer
Tower
Data Viewer
Boat Fly
Auto Switch Slot
Auto Fish
FreeCam
Auto Tool
Inventory Move
Better Sneak
Tracers
Velocity
Advanced Item Info
No Hurt Cam
Rapid Jump
No Swing
Air Movement
Auto Soup
Anti Collision
Bed God Mode
Elytra Movement
Auto Place
AAC3Speed
Elytra Flight Kenneth
Fast Use
Better Ice
Fast Break
Beacon Exploit
Farmer
Chest Aura
Easy Elytra
Fast Place
Base Finder
Auto Mine
Download SkillClient for Minecraft 1.12.2
If you have any issues with installing or general issues, please do not contact us. We are not responsible for the development and cannot answer your support questions. Instead leave a comment on the client you have problems with, our community is often very helpful.
Related Posts