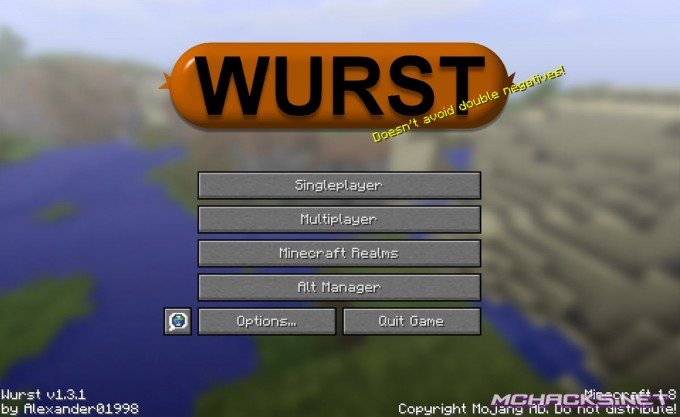 If you know how to program and compile a program, you now have the opportunity to create your own Minecraft hacked client! Tweak and change it as you wish. If you have never done this before, we recommend you to check out the pre-compiled finished version of Wurst. You can download Wurst here.
The source code for the Wurst hacked client is freely available on GutHub.
There are different versions of the source code, as the client is frequently updated.
In the latest version the following features/mods/cheats/hacks are included:
Movement:
AutoSprint
AutoWalk
Blink
Bunnyhop
Dolphin
FastLadder
Flight
Glide
HighJump
Jesus
Jetpack
NoFall
NoWeb
Phase
Sneak
Spider
Step
Timer
Blocks:
AutoMine
AutoSign
AutoTool
BuildRandom
FastBreak
FastPlace
InstantBunker
Kaboom
Liquids
Nuker
NukerLegit
AutoBuild
Misc:
ArenaBrawl
AutoSwitch
Derp
FastEat
Headless
Miley Cyrus
Panic
Throw
YesCheat+
Chat:
AntiSpam
ForceOP
/home
MassTPA
Combat:
AntiKnockback
AutoRespawn
BowAimbot
Criticals
FastBow
FightBot
Follow
Invisibility
Killaura
KillauraLegit
MultiAura
Protect
Regen
Target
Render:
AntiBlind
BaseFinder
ChestESP
Freecam
Fullbright
HealthTags
ItemESP
LSD
MobESP
NameProtect
NameTags
NoHurtCam
Overlay
PlayerESP
RemoteView
Search
Tracers
TrueSight
X-Ray

Download the source code below.
Please note this is only for experienced programmers. It is not just a client you can download and use, again you have yo compile it before you can use it.
Download and use at your own risk. We do not create, nor host any clients, programs or downloads in general.
Related Posts