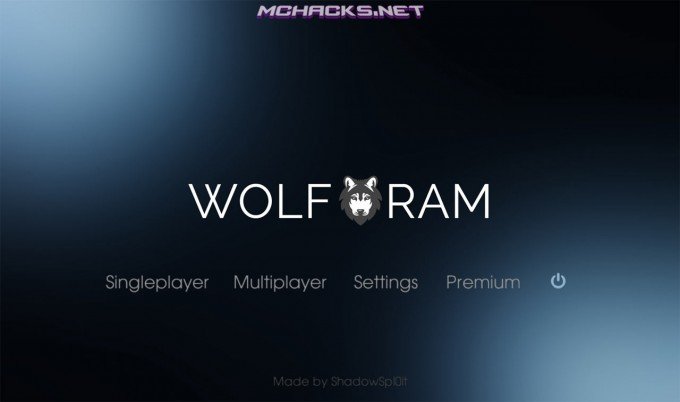 Wolfram has been updated to version 4.0.0 and now includes OptiFine!
Latest changes to Wolfram:
ADDED: Gui customization as a paid feature
ADDED: Window presets
ADDED: Wolfram Premium button in the Client Settings screen
ADDED: Legit command
ADDED: IRC mute/unmute command
FIXED: Wrong link on the Contact section
FIXED: IRC was not working
FIXED: IRC spam prevention was buggy
CHANGED: Redesigned the Gui
CHANGED: Made IRC spam prevention more strict
CHANGED: Made the Premium screen appear first
CHANGED: Made all mods freely available
CHANGED: Made color customization a paid feature
CHANGED: Color is now changed by modifying the hue
CHANGED: Watermark hiding is now a VIP feature
REMOVED: Window buttons when Gui not opened
Features:
Player mods
Auto Steal
Auto Eat
Enhance
Fast Break
Fast Eat
Fast Place
Free Cam
Ghost
InvWalk
More Inventory
No Blind
No Break Delay
Regen
Zoot
Movement mods
Air Move
Air Walk
Blink
Bunny Hop
Creative Fly
Dolphin
Fast Fall
Fast Ladder
Flight
Flip
Fly NCP
Fly Vanilla
Glide
Glide Fly
High Jump
Jesus mode
No Fall
No Slow Down
Parkour Jump
Phase
Safe Walk
Silent Sneak
Sneak
Spider mode
Speed
Sprint
Sprint Legit
Step
Step Legit
Combat mods
Aim Assist
Aimbot
Auto Armor
Auto Attack
Auto Shoot
Auto Soup
Auto Sword
Bow Aimbot
Click Aimbot
Click Aura
Criticals
Fast Bow
Fight Bot
Force Field
Kill Aura
Reach
Velocity
World mods
CivBreak
Click Nuker
Nuker
Pathfinder
Sign Crash
Timer
Render mods
Arrow Trajectories
Anti Hurtcam
Armor ESP
Breadcumbs
Cave Finder
Camera NoClip
Chest ESP
Compass Tracer
Farmhunt ESP
Fullbright
Item ESP
Item Labels
Mob ESP
Nametags
No Fireworks
No Overlay
Player ESP
Potion Effects
Projectiles
Prophunt ESP
Tracers
True Sight
Wallhack
Wolfram Chat
Wolfram HUD
Xray
Fun mods
Other mods
Anti AFK
Anti Spam
Fake Hackers
Middle Click Friends
Panic
Auto mods
Auto Fish
Auto Mine
Auto Respawn
Auto Swim
Auto Tool
Auto Walk
Misc mods/settings/options
Radar
Text radar
Settings (aimbot range, velocity, flight speed etc.)
Preferences (colors, font etc.)
KillAura Settings
Info
Tab GUI
Book hack (Force OP)
Sign Hack (Server Crash)
Download and use at your own risk. We do not create, nor host any clients, programs or downloads in general.
Related Posts