46 comments
Creator: Team Reflex
Reflex has been updated to latest Minecraft version, but still has the same features and MultiOS support. This means that it works both for Mac, Linux and Windows.
OptiFine included: This client comes pre-installed with the OptiFine mod. OptiFine lets you tweak several graphic settings in Minecraft.
We have just updated the download section to include the Reflex ULTRA version. This version includes updated code, improved GUI and more mods.
It got all you need when you need to grief, PvP or just finding quick diamonds in either singleplayer or online in multiplayer on Minecraft servers.
Please note: when you start the client it will prompt you to login to Reflex pro. Just click "Cancel" and you can start play normally without pro.
Coded by: billybob1060
Designed by: harrison633
Client by: Team Reflex
Screenshots
Reflex Ultra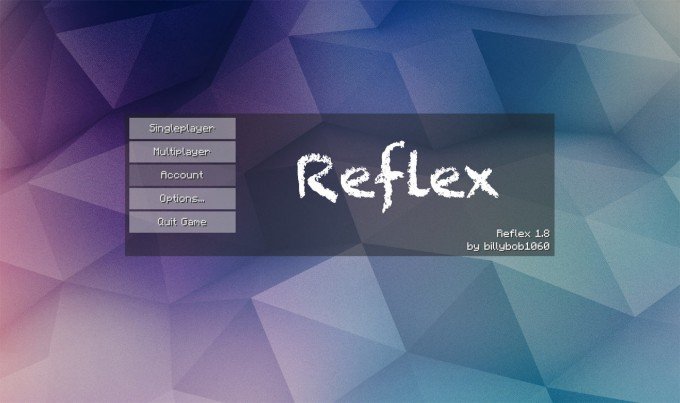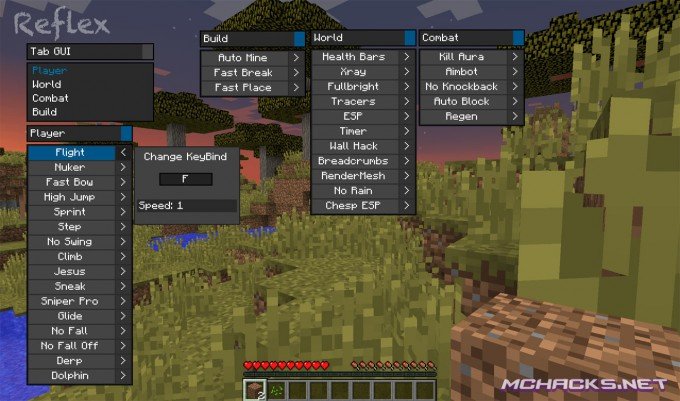 AutoSwitch
Waypoints
Glide
RageMode
PacketSneak
AutoMine
Bunny Hop
WorldEditESP
AntiBlindness
NoSwing
Step
FullBright
AutoBlock
AutoDisconnect
Night Vision
ProphuntESP
Sprint
Climb
AutoTool
MobESP
Xray
Flight
Nuker
AntiFall
Regen
Hyper
Dolphin
Derp
AutoFish
NoFall
FastPlace
ChestESP
Trajectories
AnitKnockback
FastBreak
Breadcrumbs
Criticals
Aimbot
Timer
Tracers
NameTags
Step NoCheat+
KillAura
PlayerESP
AntiRain
Godmode
Astronaut
Sneak
And more!
How to use Reflex client
GUI / Menu control: Right Shift
Command: .help
How to install Reflex
1. First
Download and extract the zip file.
Close Minecraft (if open).
2.1 For Windows
Navigate to:
%appdata%\.minecraft\versions
Move the Reflex folder to:
\versions
2.2 For Mac
Navigate to:
~Library/ApplicationSupport/minecraft/versions
Move the Reflex folder to:
/versions
2.3 For Linux
Navigate to:
\Home\.minecraft\versions
Move the Reflex folder to:
\versions
3. Create a new profile
Open the Minecraft launcher
Click on "New Profile"
Settings:

Profile Name: Reflex
Use version: release Reflex

Save Profile
Chose the newly created profile "Reflex″ and click "Play".
Related Posts
Follow us on Facebook for latest updates & hacks!