41 comments
Creator: yellowlight2
Cyanit client for Minecraft 1.8 has lots of mods/hacks for you to enjoy.
Screenshots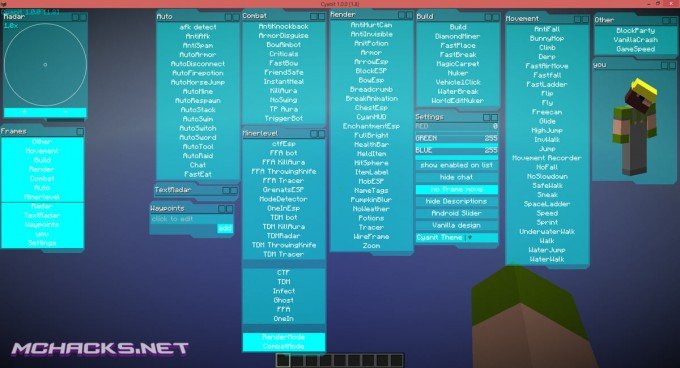 Movement Mods
AntiFall (reqires NCP)
BunnyHop
Climb
Derp
FastAirMove
FastFall
FastLadder
Flip
Fly
Freecam
Glide
HighJump
InvWalk
Jump
Movement Recorder
NoFall
NoSlowDown
SafeWalk
Sneak
SpaceLadder
Speed
Sprint
UnderwaterWalk
Walk
WaterJump
WaterWalk
Combat Mods
AntiKnockback
ArmorDisguise
BowAimbot
Criticals
FastBow
FriendSafe
FastHeal
KillAura
NoSwing
TP Aura
TriggerBot
Render Mods
AntiHurtCam
AntiInvisible
AntiPotion
ArmorEsp
ArrowEsp
BlockESP
BowESP
Breadcrumb
BreakAnimation
ChestESP
CyanHUD
EnchantmentESP
Fullbright
HealthBar
HeldItem
HitSphere
ItemLabel
MobESP
NameTags
PumpkinBlur
NoWeather
Potions
Tracer
WireFrame
Zoom
Build Mods
Build
DiamondMiner
FastPlace
FastBreak
MagicCarpet
Nuker
Vehicle1Click
WaterBreak
WorldEditNuker
Auto Mods
AFK detect
AntiAFK
Anti Spam
Auto Armor
Auto Disconnect
Auto Firepotion
Auto HorseJump
Auto Mine
Auto Respawn
Auto Stack
Auto Swim
Auto Switch
Auto Sword
Auto Tool
Auto Raid
Chat
FastEat
How to use Cyanite
Click GUI: G
Right click modulebuttons to open settings
Right click keybind button to unbind
How to install Cyanite client
Download and extract the zip file.
Close Minecraft (if open).
Navigate to the "%appdata%/.minecraft/versions" folder.
Move the Cyanite folder you just downloaded to your .minecraft/versions folder. The folder should contain a .jar and a .json file.
Start the Minecraft launcher.
Click "New Profile", set the "Use verison:" to "release Cyanite".
Save and choose the profile and start the game.
Download Links
Download and use at your own risk. We do not create, nor host any clients, programs or downloads in general.
Related Posts