Kronos is a new client for Minecraft. It is packed with features and it works flawless for the new version of Minecraft.
We had no problems at all when we tested it. As said, it is packed with features, the most commons are fly, speed, xray, nuker, esp and some useful combat hacks (used in for example Hunger Games) like bow aimbot and auto soup. As always the client works in multiplayer on servers. This hack might get you banned – use at own risk!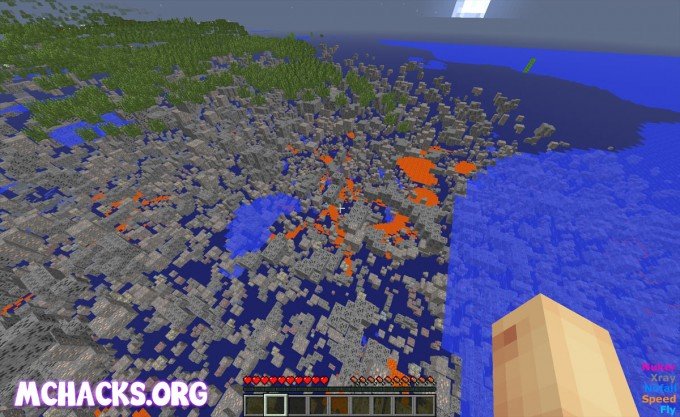 Player hacks

Fly
Speed
No fall
Auto tool
Fast place
Glide
Step
Climb
Dolphin

Render
ESP
World cheats

Xray
Full bright
Nuker
Day
No weather
Random switch
Freecam
Annoy

Combat hacks

Kill aura
Mob aura
Tp aura
Quake aura
Bow aimbot
Rapid fire
Crits
Anti velocity
Auto soup
Auto block
God mode
Keybinds
Right Shift = GUI
Just click the right shift to bring up the GUI / menu.
Commands
.help
Screenshots
How to install Kronos Client
Download and extract the zip file. You now have a folder, this folder should contain a jar and json file.
Navigate to "%appdata%/.minecraft/versions" folder.
Move the hacked client folder from the downloaded zip file, to your .minecraft/versions folder.
Start the Minecraft launcher.
Click "New Profile".
Choose a name for your profile.
In "Use verison:" choose "release [Client name]".
Click "Save Profile".
Choose the newly created profile and enjoy Kronos!
You can also check out our install guide.
Download Links
Download and use at your own risk. We do not create, nor host any clients, programs or downloads in general.
Related Posts