4 comments
Creator: Alexander
Aristois has been updated to support the newest version of Minecraft 1.11.2. This hacked client works on Minecraft Realms.
How to use Aristois (controls)
GUI/Menu: Right Shift
Commands: .help
Keybinding: .setbind [mod] [key]
IRC Help: #info
Changelog
Build 95
Codename: The Render Update:
– Fixed ALL render issues.
– Different colors for ESP/Tracers.
– Auto disable bobbing while tracer is on.
– Various bug fixes.
Media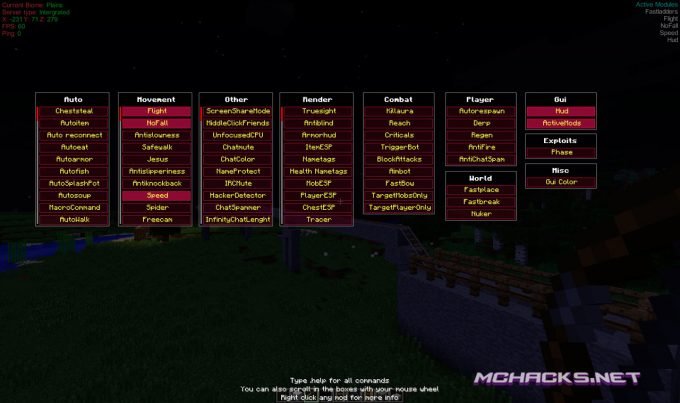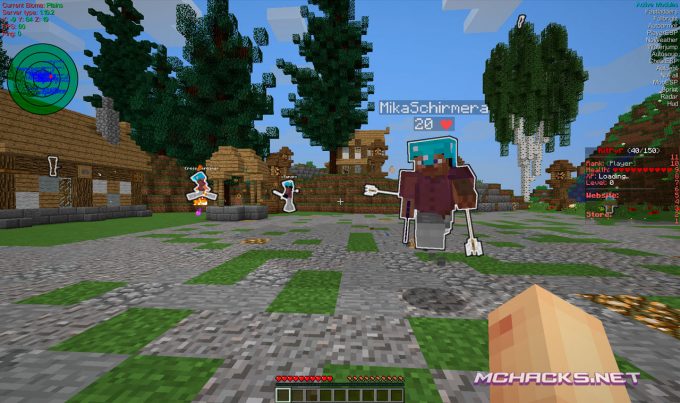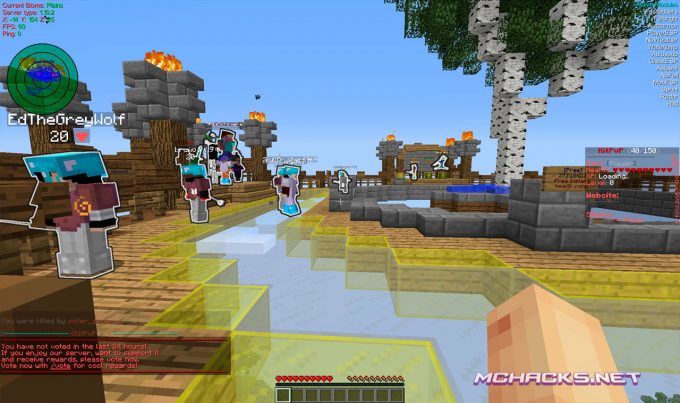 Features
Flight
The flight module allows you to fly like you're in creative on servers without a anti-cheat.
.fspeed <0-20> – Sets the flight speed.
NoFall
The NoFall module disables fall damage on servers without a anti-cheat.
AntiSlowness
The AntiSlowness module disables slowness when walking through webs, when eating, when sneaking and more.
SafeWalk
The SafeWalk module stops you from walking off the edge of a block much like when you are sneaking.
Jesus
The Jesus module allows you stay above water stopping you from falling in and allows easy movement across.
Antislipperiness
The Antislipperiness module disables slipping on ice making it easier to walk on.
Antiknockback
The Antiknockback module disables player knockback meaning you don't get pushed when hit my a mob or player.
Speed
Speed allows you to run/walk really really fast.
.wspeed <0-20> – Changes walk speed for the walk speed mod.
Spider
Spider allows you to climb blocks much like a spider does or like when you climp up ladders.
Freecam
Freecam allows you to exit your body and freely fly around the world as if you were in spectator mode.
Blink
Allows you to exit your body and freely walk a short distance then have your body teleport to your position.
Fastladders
Fastladders allows you to climb up ladders faster.
ExtraElytra
ExtraElytra allows you to glide for a much longer time because of reduced speed loss.
Waterjump
Waterjump allows you to automatically jump on water that courses you to move really fast.
ScaffoldWalk
ScaffoldWalk allows you to place blocks under you as you walk making walking in the air easier.
AntiAFK
AntiAFK stops servers from kicking you for being AFK by moving you around.
BunnyJump
BunnyJump allows you to jump really high.
BHop
BHop allows you move really fast by jumping.
Sprint
Sprint automatically make you sprint when moving.
InventoryWalk
InventoryWalk allows you to walk around using wasd when your inventory is open.
AlwaysSneak
AlwaysSneak spams the server with sneak packets tricking the server into thinking you are always sneaking.
ChestSteal
ChestSteal allows you to automatically take items out of chest and put them in your inventory.
AutoItem
AutoItem automatically switches your item to the most efficient tool for the job.
AutoReconnect
AutoReconnect automatically reconnects you to the server when you have been disconnected.
./reconnect <0-100> – Sets the seconds before auto autoreconecting to a server.
AutoEat
AutoEat automatically switches and eats food on your hotbar when hungry.
AutoArmor
AutoArmor automatically equips the best armor in your inventory.
AutoFish
AutoFish automatically reels in fish and throws fishing rod when fishing.
AutoSplashPot
AutoSplashPot will automatically throw splash pots when you're low on health.
AutoSoup
AutoSoup automatically switches and eats Suup on your hotbar when needed.
MacroCommand
MacroCommand allows you to set commands that will run when this module is activated.
.macro – Sets a custom command for the macro hack.
AutoWalk
AutoWalk automatically makes you walk forwards.
Fastbreak
Fastbreak allows you to break blocks at a much faster rate.
Fastplace
Fastplace allows you to place blocks at a much faster rate and throw item faster.
Nuker
Nuker is a creative only module that allows you to automatically remove blocks in a sphere around you.
.nuker Add : Remove> – Adds/Removes a nuker block.
ScreenShareMode
ScreenShareMode hides all traces of the client from your screen so you to show your screen with out fear of being "caught".
MiddleClickFriends
MiddleClickFriends allows you to press the middle mouse button on other players adding them to your friends list stopping you from targeting them with killaura.
UnfocusedCPU
UnfocusedCPU sets your games FPS to 5 when its not being used allowing your PC to run smoother out of MineCraft.
ChatMute
ChatMute hides commands and messages in the chat.
ChatColor
ChatColor al you to type using color and see color in the chat.
NameProtect
NameProtect sets your name on your screen to something else to hide it from people viewing your screen.
IRCMute
IRCMute hides commands and messages in the IRCchat.
HackerDetector
HackerDetector shows you in chat when players near you are hacking.
ChatSpammer
Spams the chat with custom text set by the player.
.spam – Sets a message to spam for the spam module.
InfinityChatLenght
InfinityChatLenght allows you to write strings with unlimited characters in the chat.
FancyChat
FancyChat changes the text that you write in the chat show in a different chat.
Annoy
Annoy will repeate messages in chat of a selected user. You can annoy someone by typing .annoy
GUI Color
GUI Color allows you to change the color of the clients GUI.
Autorespawn
Autorespawn automatically respawns you when you die allowing you to get back into the action sooner.
Derp
Derp makes your players head spin around and look silly.
HUD
Hud shows info on the Server type, your position, FPS and ping in the top left corner of your screen.
ActiveMods
ActiveMods shows all active modules in a list on the top right side of your screen.
Exploits – Phase
Phase allows you to glitch through transparent blocks on servers with No-Cheat-Plus.
Regen
Regen allows you to regen health on servers without a anti-cheat.
Truesight
Truesight allows you to see entity that are invisible such as players and armor stands.
Antiblind
Antiblind disables the blindness effect on the player allowing you to see when blind.
ArmorHud
ArmorHud shows info on what armor you have equipped and it durability when in survival/adventure.
ItemESP
ItemESP shows a white outline on items when dropped that can be seen through blocks.
Nametags
Nametags changes players names to be bigger and easier to see from a far and through walls.
HealthNametags
HealthNametags shows info on the amount of health other players have on their nametag.
MobESP
MobESP shows a white outline on mobs that can be seen through blocks.
PlayerESP
PlayerESP much like the MobESP, it shows a white outline on players that can be seen through blocks.
ChestESP
ChestESP shows a green transparent block around chests that can be seen through blocks.
Tracer
Tracer shows lines from your crosshair to nearby players that turns redder the closer you are.
Waypoints
Waypoints shows created waypoints nametag and shows tracers to your waypoints.
.point – Sets/Removes/Lists waypoints.
NoWeather
NoWeather hides rain particles and stops all weather sounds.
Fullbright
Fullbright allows you to see in the dark by making the environment bright.
XRay
XRay allows you to see through selected blocks to find ores and bases.
.xray – Adds/Removes a xray block.
CowTracer
CowTracer shows lines from your crosshair to nearby cows that turns redder the closer you are.
Killaura
Killaura allows you to automatically hit all hostiles mobs as well as players around you who are not added to your friends list.
.aura <0.0-10.0> -Sets the killaura attack delay [Default 1.6].
Reach
Reach allows you to break and place blocks 7 blocks away instead of 4 and you can he entitys from 7 blocks away.
Criticals
Criticals makes every hit you make a critical hit.
TriggerBot
TriggerBot allows you to automatically hit the player you are looking at that is not added to your friends list.
Free download below.
Download Links
Download and use at your own risk. We do not create, nor host any clients, programs or downloads in general.
Related Posts