Kinky is a modified/hacked client for Minecraft. This Minecraft hack / cheat comes with lots of features. For example you can use the Xray to find diamonds, bow aimbot in PvP and movement hacks to move faster or even fly. See the full features list below. Like most other hacked clients, this also works online on multiplayer servers, both vanilla and modded servers.
Use Kinky for:
PvP: with lots of combat features you will pwn everyone else !
Griefing: make the kids cry with all the griefing options.
Utility: many other features may come handy for you.
ESP hacks
Use ESP on mobs
Nametags
Beams
Hit boxes
Tracers
Wallhack
Movement cheats
Sprint
Fast Fall
Flight / fly hack
Glide
Water walk
No slowdown
Step
Parkour
Combat / PvP
Bow aimbot
Criticals
Rapidfire bow
God mode
Kill aura
No knockback
Fast heal
Auto Spawn TP
Targets
Team protect
Animals
Mobs
Players
Player hacks
Drop
Auto armor
Auto fish
Auto respawn
Auto tool
Sneak
No fall damage
World
Auto pole
Auto farm
Auto replace
Click nuker
Fast place
Nuker
Speed mine
Auto Right clicker
LSD
Display
Breadcrumb
Chest ESP
Freecam
Brightness
No render
Search
Bow path
Xray
Wireframe
No overlay
Derp
Misc / options
TP accept
Ghetto speak
No cheat bypass
TTF chat
Potion effect
Armor status
Theme chooser
Values

Flight speed
Kill aura APS
Kill aura range
Speedmine speed
Xray opacity
Screenshots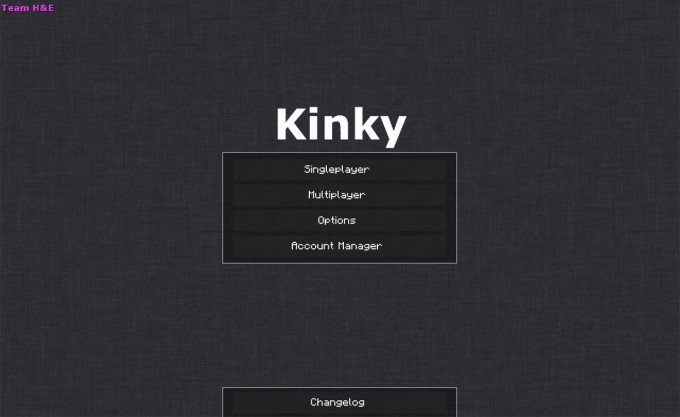 This is the screen that meets you when you login – a modified Minecraft splash screen.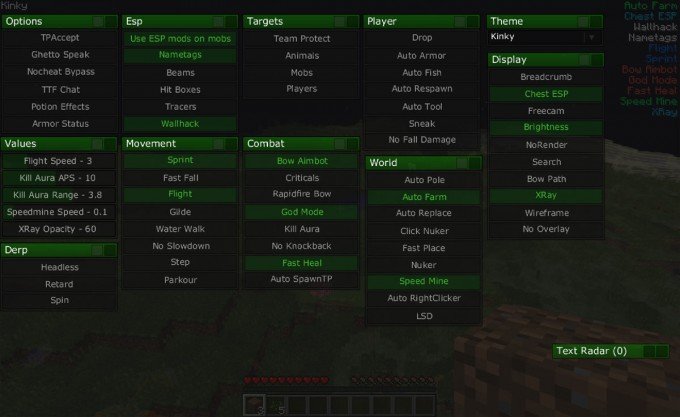 All the features of Kinky client.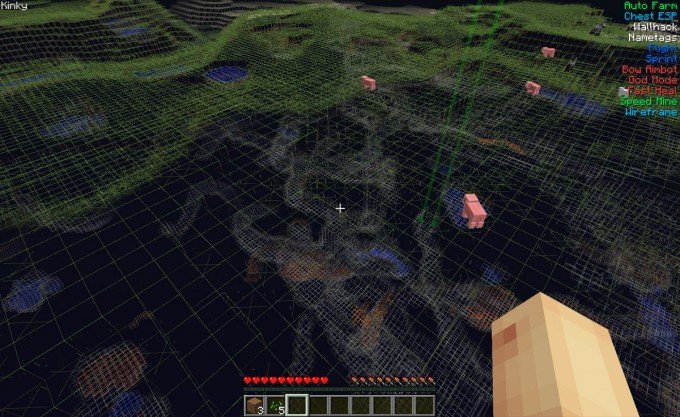 With wireframe and different other hacks on.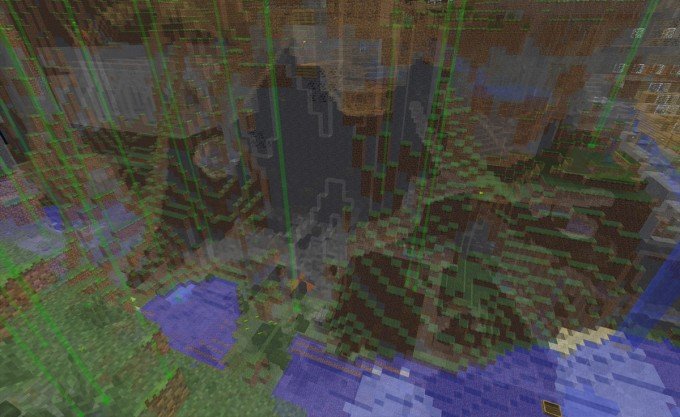 Demonstration of Xray hack.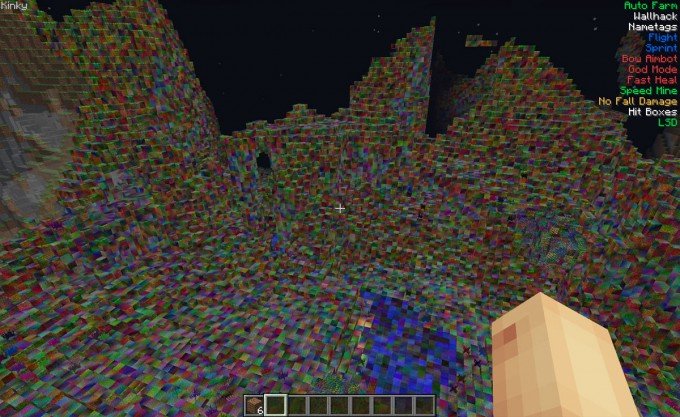 The LSD feature in action.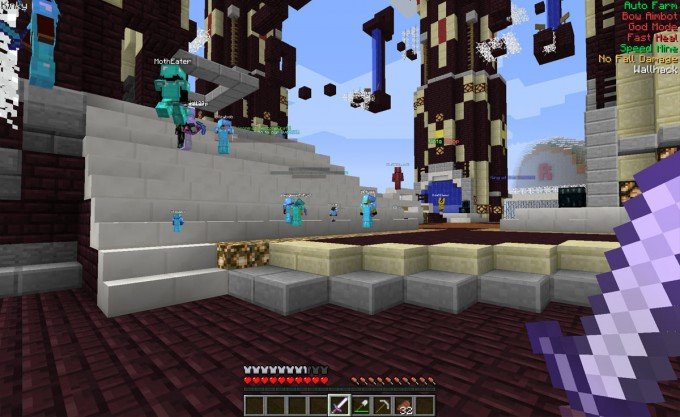 ESP, wallhack, aimbot in online multiplayer.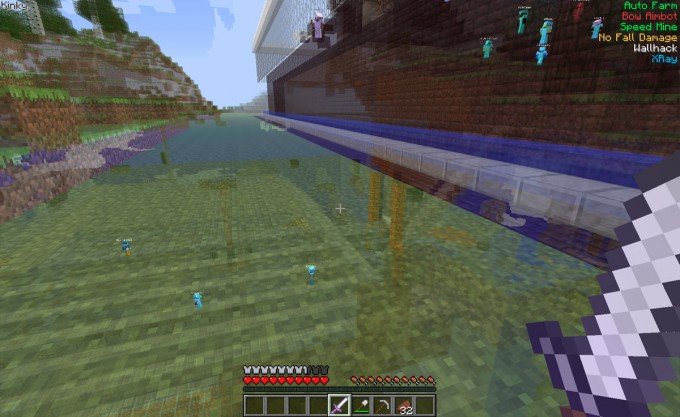 How to use
Menu / GUI = Right CTRL
Command: .help
Commands:
.alloff
.bind
.help
.toggle
.friend
.insult
.pickupline
.vclip
.getid
.teamprotect
.stp
.say
.search
.setautorightclick
.waypoint
.xray
Use at own risk! You risk getting banned from servers when using cheats and hacks. Read the server rules, if cheats are not allowed, please respect this. Some servers has mods installed that can detect cheats such at fly and xray.
How to install Kinky Hacked Client for Minecraft
Download and extract the zip file.
Close Minecraft (if open).
Navigate to the "%appdata%/.minecraft/versions" folder.
Move the "Kinky" folder to your versions folder. The client folder should contain a jar and a json file.
Start the Minecraft launcher.
Click "New Profile", set the "Use verison:" to "release Kinky".
Click "Save Profile".
Choose the newly created profile and enjoy!
Questions?
Ask the users in the comments below :)
Video showcase of Kinky
Download and use at your own risk. We do not create, nor host any clients, programs or downloads in general.
Related Posts